Uber Uber loses court case to block English-language written test in London
Ride-hailing app firm argued that standard required of Transport for London test to obtain licence was too high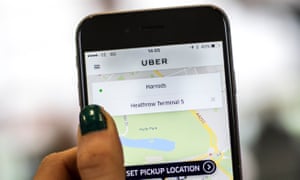 Rob Davies and agencies
Friday 3 March 2017 07.23 EST First published on Friday 3 March 2017 06.24 EST
The ride-hailing app firm Uber has lost a high court case in a ruling that means all minicab drivers in London will have to pass a written English test, including a short essay.
The judge, Mr Justice Mitting, admitted this could cost the capital 40,000 cab drivers over three years but said Transport for London had no other option that was less restrictive. The San Francisco-based firm said it would appeal.
Uber won a separate part of the case that would have seen it forced to operate a call centre to field passenger complaints.
Uber v TfL: court hears written English test will cost 33,000 drivers their jobs Read more
It also defeated a third requirement by TfL that drivers should have minicab insurance, even during periods when they are not working.
Uber launched legal action in August after TfL said drivers should have to prove their ability to communicate in English, including to a standard of reading and writing that Uber said was too high.
"TfL are entitled to require private hire drivers to demonstrate English-language compliance," said Mitting as he rejected Uber's claim.
Tom de la Mare QC, who was representing Uber and the drivers – Hungarian national Sandor Balogh, Bulgarian Nikolay Dimitrov, and Imran Khan from Pakistan – had argued that the language requirement would result in 70,000 applicants failing to obtain a licence over the next three years.
The changes, including insurance and the provision of call centre facilities, were also likely to lead to additional costs for PHV operators, running into millions of pounds, he said.
The proposals would have a disproportionate impact on drivers from countries where English was not generally spoken and give rise to "indirect discrimination on grounds of race and nationality".
TfL argued that the requirements were vital to ensure passenger safety and to raise standards.
The mayor of London, Sadiq Khan, said: "I'm delighted that the courts have today backed my plans to drive up standards and improve passenger safety in London.
"Drivers being able to speak English and understand information from passengers and licensing requirements is a vital part of ensuring passengers get the high standard of service they need and deserve.
"This could include discussing a better route, talking about a medical condition, or ensuring every driver is fully up to date with new regulations."
He said TfL would look at the ruling to ensure its policies complied.